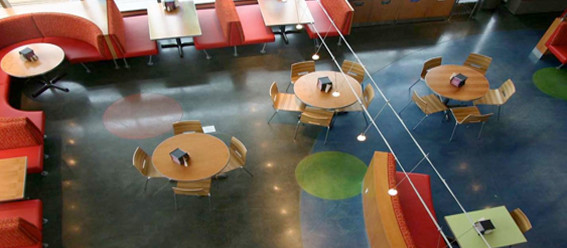 CONCRETE:
POLISHING
SEALING
LEVELING
SLOPING
STAINING
DYEING
FLOOR PREP
CONCRETE FLOORING
A Modern Flooring Solution
One of the latest trends in commercial flooring is polished concrete. It's easy to see why; it's inexpensive, great looking, long lasting, and can be dyed and stenciled to create a unique and attractive look.
Another feature of polished concrete is that it can be a key component in creating and maintaining a green building. It's a great addition to any project where you're seeking LEED certification.
Since it doesn't require any materials beyond the structural slab of your building, there are no additional materials needed and no waste to go into landfills.
Polished concrete can also make for a healthier indoor environment. Because it is resistant to mold and mildew and impervious to dust mites, it won't degrade your indoor air quality, keeping your building, your employees, and residents healthier and more productive.
DSB+ specializes in this new type of flooring, and can handle all aspects of its installation. From prepping the floor to sealing, leveling, sloping, staining and dyeing, we are the experts in creating perfection in polished concrete floors.