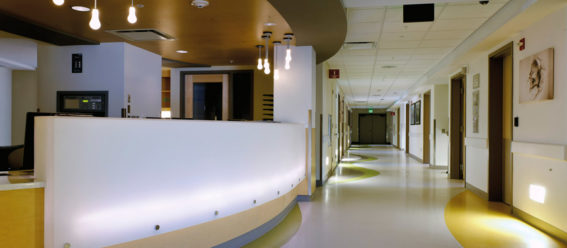 RUBBER:
Recycled, Rolls & Tiles
Sheet, Welded, Coved
Tile, Sports, Stair treads
VERSATILE RUBBER FLOORING
Rubber Can Be Natural, Recycled, and Comes in Many Forms
Did you know that Christopher Columbus was the first European to "discover" rubber? The Haitian natives were using it for rubber balls that were far superior to the toy balls the Europeans had. And there are reports of rubber being used as early as the 6th century. That's how long rubber has been around.
Since then, of course, we've invented innumerable uses for rubber and one of the best ones is for flooring. Because it comes in such a wide variety of forms, it is suitable for an enormous number of applications, both interior and exterior.
Rubber can be natural, synthetic, and recycled and comes in almost every form from strips to rolls to tiles, so it can fit into even the most complex of spaces. It's a naturally slip-resistant surface and is almost impervious to water and other contaminants. It is also highly durable, so it's used often in high impact settings like gyms and factory floors. And its non-slip nature enables it to make stairs safe.
Today it comes in myriad colors, patterns, and textures, so that rubber can accentuate your décor and make your facility look great.
Contact us and we'll guide you through the wide variety of rubber floors and help you pick the best one for your needs. Of course, we'll then install it professionally and maintain it.