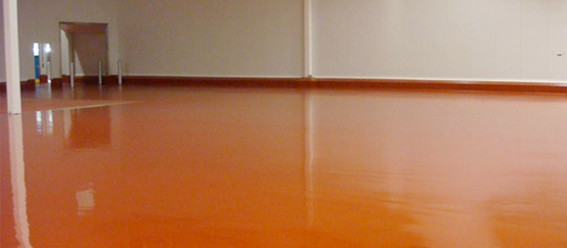 EPOXY AND INDUSTRIAL COATINGS
Floors For The Toughest Environments
These floors are made to withstand the abuse of even the toughest industrial environments. They also come in a variety of colors and patterns, so that your industrial environment doesn't have to look too…well, industrial.
These types of floors are also excellent for public areas that have extremely high traffic, such as airports, stadiums, and schools, because of this combination of toughness and good looks. The number of colors and patterns means you can invent designs that will make your high-traffic area look good and remain that way for years to come.
Epoxy and sealants can also be applied to walls and other surfaces, where a seamless, moisture proof environment is required. Operating rooms, pharmaceutical labs, and clean rooms are well served by these kinds of floor and wall systems. Unique mixtures of these compounds can also be antibacterial and mold-resistant.
There are virtually an unlimited combination of qualities these floors can provide, including rapid installation, chemical resistance, heavy load capacity, durability, impact resistance, and thermal shock tolerance. They can also be conductive, making them perfect where antistatic floors are required.
Contact us if you've got a tough environment and need a floor that can stand up to it. We'll make sure you get the right one and we'll install it perfectly so that you have a trouble-free environment for years to come.