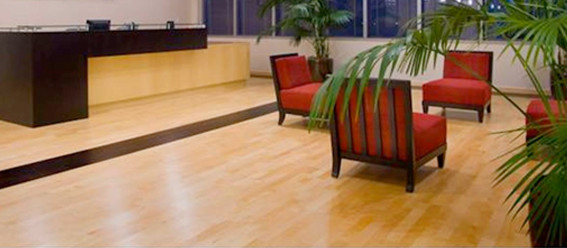 WOOD:
Plank, Parquet, Reclaimed
Bamboo
Solid & Engineered
Acrylic Impregnated
Sports
Stairs
FSC Certified
WOOD FLOORING
Beautiful, Classic, and Eco-Friendly Flooring
As with so many other materials, wood has evolved to become an extremely adaptable flooring material that can be tough as well as beautiful.
Hardwood flooring for commercial spaces is increasing in popularity. Hardwood brings a certain elegance to any commercial interior. And with the new woods and wood composites available today, you can have the sophistication of hardwoods in any almost any commercial space, including retail stores, hospitality areas, educational institutions, military housing, and more.
Wood flooring comes in a wide array of visuals, such as planks, parquet, and tiles. It can also be made from sustainable products like bamboo. In addition, engineered wood floors are made to be even tougher than solid wood. By manufacturing the floor in multiple layers, the wood flooring materials are made more durable and resistant to moisture.
Contact us if you want to explore your options in wood floors. As the flooring pros, we'll help you choose just the right floor for your requirements. And, of course, we'll install and maintain it with precision, to keep your floor looking good for years to come.