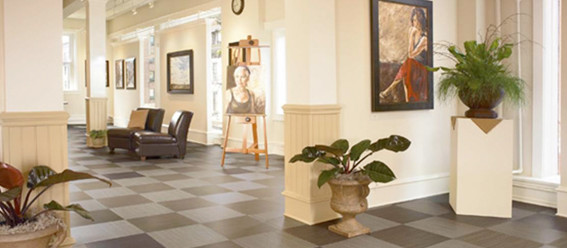 VINYL:
Sheet: Welded, Coved, Homogeneous or Heterogeneous & Safety
Luxury Tile & Plank
Quartz Reinforced Tile
VCT
VINYL FLOORING
Adaptable, Durable, and Attractive
Vinyl is the flooring of choice in many industrial and commercial applications. It's no wonder; it comes in a variety of designs, dimensions, types, and colors, is long-lasting, and can be designed make any installation look great.
Vinyl is available in a large variety of formats today; the classic vinyl sheets; luxury tile and planks; quarts reinforced tiles; and VCT. Each of these has its unique benefits, so it's important that you work with a flooring expert to ensure that you get the flooring that is going to meet your needs.
Luxury vinyl tiles are some of the newest technology in vinyl flooring. They are made to look natural, like wood or ceramic or stone. They are both beautiful and durable.
Whatever form of vinyl floor you choose, you can be sure that we will be expert in helping you select the right one.
If you're wondering if vinyl is the right floor for you, contact us, and our pros will ensure you get the right floor for your unique situation.