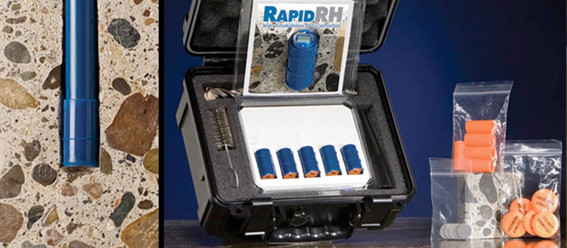 MOISTURE TESTING & CONTROL:
Calcium Chloride & RH (ASTM)
Protection solutions, Warranties
MOISTURE TESTING AND CONTROL
Eliminate Concrete Moisture Problems
The concrete floor that's poured into your facility is mostly water and during the curing process most of that water is supposed to come out. But that doesn't always happen and if that's the case, eventually, that water is going to find a way to escape. It might be into the floor or carpet you put over the concrete, which causes a host of problems including warping of resilient materials, wet carpet, mold, and other issues.
In addition, if you do start getting water escaping from your concrete floor, the natural alkalinity of the concrete will start breaking down even the toughest adhesives bonding your floor to the slab. As you can imagine, this can ruin your floor and cause serious safety and health hazards.
DSB+ has the most advanced methods of testing the RH (relative humidity) of your slab to ensure that it meets manufacturer and ASTM F2170 standards. In addition, we use state of the art moisture remediation methods to ensure that your floors aren't ruined by the moisture vapor or alkalinity of your concrete slab.
If you have a moisture problem, or even think you do, contact us. Our pros will be right out to test and, if there is a problem, find a solution as quickly and cost-effectively as possible.