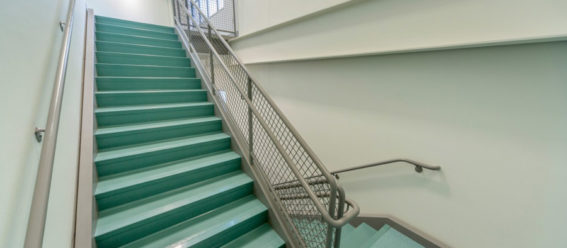 STAIRS:
1-Piece Rubber Stair treads
Carpet
Wrapped Ceramic
Stone
Porcelain
Marble
Wood
FLOORING FOR STAIRS
You Need Safety, Durability, and Ease of Maintenance
Besides entry and exit areas, stairs are one of the highest traffic areas of your facility. They can also be one of the most dangerous and noisy. Since people tend to rush up and down them it's important that you choose the right stair treads to keep people safe, keep the stairwell quiet, and keep it looking attractive indefinitely.
It can be quite a challenge. Depending on your environment, you can choose 1-piece rubber stair treads, wrapped carpet, wood, or other hard surfaces such as marble, ceramic, or stone.
One of the strengths of DSB+ is that we are experts in the analysis of client situations and planning to create flooring solutions that exactly meet their needs; budgetary, scheduling, design, safety and any other considerations.
We'll make sure that your stairs are safe, quiet, complement your interior design, and are durable so that they look good on the day they're installed and for years to come.
Contact us if you need assistance getting the best flooring for your stairs.